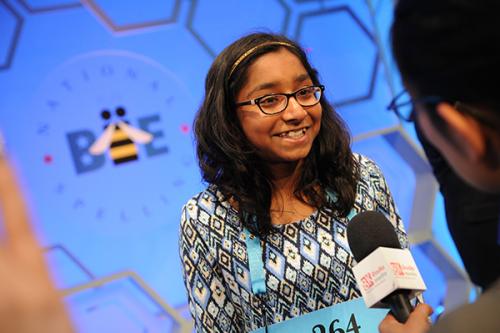 Ready for Bee Week?
Bee Week 2018 will take place from May 27 to June 1 at the Gaylord National Resort and Convention Center, with the Finals occurring at 8:30 p.m. on Thursday, May 31.
We are expecting a record number of attendees at Bee Week this year. At this time the Bee is evaluating its admission policy for the Thursday evening Finals. We will communicate the competition admission policy in early April.
The Bee's Purpose
Our purpose is to help students improve their spelling, increase their vocabularies, learn concepts and develop correct English usage that will help them all their lives.
2017 marked nine decades of the national spelling bee.
Every year, students from all walks of life have the opportunity to participate in the Scripps National Spelling Bee, one of the nation's oldest and most iconic competitions. They progress from classroom to cafeteria, from auditorium to civic center, delighting friends, family, sponsors and fans, just as millions of other students have done before them.
Learn More About the Bee's History
Have a question? Find an answer!
The Scripps National Spelling Bee works with teachers and students across the country. Learn more about what we do, and find answers to frequently asked questions.
Inspire
Discover
Champion
Experience a journey filled with excitement and emotion.
Celebrate the power of the human spirit.
Advocate for a lesson deeper than language
On every stage and during every round, family, friends and spectators witness the true journey of Scripps National Spelling Bee competitors, complete with its ups and its downs.
Communities rally around each speller, cheering in their victories and sympathizing in their defeat. Through it all, these spellers teach each of us a lesson on true dedication, grit and resilience of the human spirit.
At the end of the day, each speller who participates at any stage of a school, local or national spelling bee walks away with a deeper appreciation for language. They also take away important lessons on hard work and memories that will last a lifetime.
Promoting Literacy Since 1925
---
The National Spelling Bee first started in 1925 when nine newspapers joined together to host a spelling bee. Little did they know that 90 years later their literacy effort would reach 11 million students every year. The Great Words, Great Works reading list allows us to further our purpose and help more great readers recognize their spelling potential.
Winning Words
Every year, one speller is crowned champion. How well do you know their winning words?