Read what others are sharing
Akeelah and the Bee
Submitted by: Bernadette Miao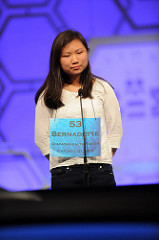 My dream began with an impromptu classroom spelling bee, but it grew with the help of a movie. This movie was Akeelah and the Bee. While this movie is a fictional docudrama, it inspired me to have a goal in my spelling bee journey and to believe that anything is possible. After watching this movie, I believed in my dream of making it to the 2015 Scripps National Spelling Bee. Akeelah and the Bee helped my dream come true. Since the end of my days as a speller, I have continued to foster my love of all things spelling. I [...] Read More
Spelling Bee Memories
Submitted by: Seneca Blount
I got the opportunity to compete in the 74th National Spelling Bee. It was one of the best experiences of my life. My favorite night was by far the Ice Cream Social. I have never eaten so much ice cream in my life. The memory that I cherish the most were the other spellers. We were all from different walks of life but had one thing in common: We all worked hard to get where we were. I made some awesome friends that I was able to continue a few years after the spelling bee. I am glad that the Bee is still held each year. I [...] Read More
Spelling Bees - A Passion Shared With My Daughter
Submitted by: Dawn Golik - Fresno, CA
37 years ago as a nervous eighth grader, I competed in the San Diego County Spelling Bee. I can clearly remember the excitement of that day, how nervous I was, and the exhilaration of spelling words correctly. While I didn't win, I fell in love with spelling bees. They are a passion that I'm thrilled to share with my oldest daughter, Daniella. She has competed in and won several local and District spelling bees, and placed sixth in last year's Fresno County competition. The hours we spend with each other practicing, learni [...] Read More
The D.C. Bee Gave Me The D.C. Bug
Submitted by: Nathaniel Ralstin
I credit the National Spelling Bee for having a profound impact on the direction my life has taken over the last 17 years. I was a speller in the 2000 National Spelling Bee--Speller #73, sponsored by the Zionsville (IN) Times-Sentinel. I was the youngest speller in the Bee that year at 9 years old (which is nearing ancient compared to this year's youngest speller!). My opportunity to participate in the Bee coincided with some of my most formative developmental years, times in which I really started to understand that the wo [...] Read More
Discovering my love of linguistics
Submitted by: Zeb Powell
Since forever, I have always loved words. I began reading at an advanced level in Kindergarten, and was entered into my first spelling bee in middle school. I did not place in that district-wide bee, but the experience and sense of accomplishment for being on such an esteemed platform motivated me to excel in all things Language Arts. Years later, as a high school freshman student of the Upward Bound program, I was dared by my classmates to participate in the on-campus vocabulary challenge. This challenge was not exclusi [...] Read More
The Dream
Submitted by: Matthew Rogers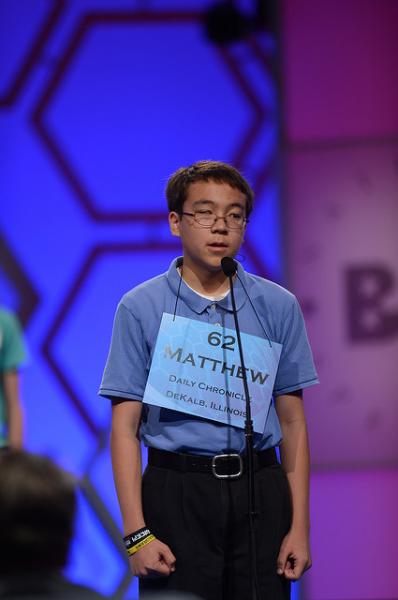 Ever since I was five years old, I have watched the Scripps National Spelling Bee. The spelling bee appealed to me because it showcased one's academic talents on a national stage. During my time in elementary school I always wondered, "That could be me competing onstage and having the time of my life in Washington, D.C., but what does it take to live my own dream?" In 2011, my brother, Mark, qualified for Nationals and it was on the car ride back from the regional bee that I realized that this could be me one day. Mark gave [...] Read More
Regionals
Submitted by: Dylan Brown
I competed at my school spelling bee in El Paso and won for my first spelling bee. I'm 11 and made it to the regional spelling bee. I was stumped on the 1st round with the word isobar and was eliminated. But I still have 3 years to compete so watch out D.C. I'm gonna make it to you one way or ANOTHER!
Greek and Latin in the ER
Submitted by: Aishwarya Pastapur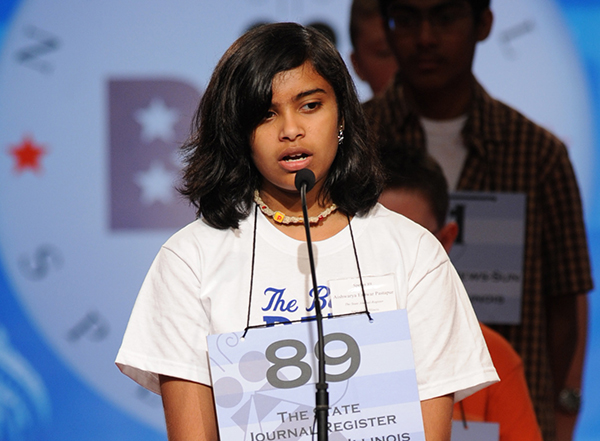 "The patient has had a bilateral salpingo-oophorectomy." I ponder the various Greek roots in my head. "Salpinx" means Fallopian tubes, "oophor" means ovary, and "ectomy" means removal. Without even googling this word, I know that this person has had both sets of Fallopian tubes and ovaries removed. As an emergency department scribe, I encounter many words derived from Greek and Latin roots, and I expect to see more as I enter a career in medicine. This is just one small example of how much the spelling bee has impact [...] Read More
A Confidence Boost from the Bee
Submitted by: Michael York
In 1982, I was the spelling champion of Saginaw County, Michigan. Participating in the National Spelling Bee provided me with an invaluable early lesson in how to study a large amount of complex material in a short amount of time and, just as importantly, it taught me that hard work and focused attention can indeed pay off. I was always the type of kid who did much better at contests and standardized tests than I did in school, and being able to participate in the National Spelling Bee gave me a boost of confidence at a [...] Read More
My Spelling Bee World
Submitted by: Alia Abiad
Every minute of the spelling bee taught me something new: how to stay calm under pressure, how to make friends instead of rivals, how to accept success and defeat, how much the support of my friends and family means, how people can be talented and gracious and dedicated all at once. It left me with one question, though - how do I deal with the loss of my spelling bee world?

Now, with a little more distance between me and the end of the competition, I think I know the answer: I don't have to deal with losing thi [...] Read More
BEE-lieve
Submitted by: Kate Miller
I keep asking myself what it is about this competition that gives us this phenomenal synergy. In part, it's automatic respect; we know exactly how hard we've all worked to get here. Yet it's so much more than this. The Bee Week Staff convinces us that we are *all* champions. The Bee teaches us to bee-lieve in ourselves, and also in each other. I will carry it with me always.
On this the 90th year of the Scripps National Spelling Bee, I celebrate involvement in over half of these years (46, to be exact)! In a word, MIND-BOGGLING! My memories are measureless but, suffice it to say, it's been quite a SPELL!
Submitted by: Mary Brooks, Head Judge
From Speller to Linguistics Major
Submitted by: Gabe DeFreitas
My time competing in the Scripps Bee program gave me a challenging (but fun!) goal toward which to work during my middle school years. The dedication and study methods that I developed for the Bee proved essential for later endeavors in high school, and even now, in college. My encounter with the study of etymologies also sparked my lasting interest in language, and ultimately led to my majoring in Linguistics. So the Bee truly can "bee" a life-changing experience!
Sharing a Love of Language
Submitted by: Jordan Hoffman
I competed three years in the National Spelling Bee and was a finalist in 2012. I just completed my first year at Belmont University in Nashville, Tennessee. The bee has enriched my life so greatly, through study skills, a love of language, and lifelong friendships. Recently, I was reminded of the legacy of the Bee and my responsibility to pass on the love of language to others. I began tutoring in an elementary literacy program through a Nashville YMCA. On my first day, I asked my student his bigges [...] Read More