The True Meaning of "Champion"
Your organization can provide the path to inspiration and accomplishment for hundreds of bright, high-achieving students at the school and regional level.
Give Your community the Stage
How Regional SPonsorship works
Sponsors host Scripps National Spelling Bee-sanctioned qualifying Regional Spelling Bees for the local participating schools and spellers in February and March.

Your Regional Spelling Bee Champion(s) advances to represent your organization and your community at the Scripps National Spelling Bee, broadcast on national television.

Sponsors are welcome to attend the Scripps National Spelling Bee to cheer on their Regional Spelling Bee Champion(s) throughout the competition, as well as experience the spectacular programming and activities that occur during Bee Week.

Scripps National Spelling Bee provides national support to help recruit and communicate with schools in your community, encouraging participation in your Regional Spelling Bee program.

Sponsors are supported year-round by the Scripps National Spelling Bee's dedicated staff, a team that provides access to a plethora of resources. Sponsors receive program guidance, official rules, word lists, customer service support and access to trainings to ensure their Regional Spelling Bee is a success.

This opportunity allows a Sponsor to customize their Regional Spelling Bee program, create an event unique to their community, generate positive PR and provide memorable experiences for schools and spellers across their region. 
The Bee Experience
How does a student in your community advance from the classroom spelling bee all the way to the national finals? When do educators receive their spelling bee resources? We've answered these questions and more about the Bee experience.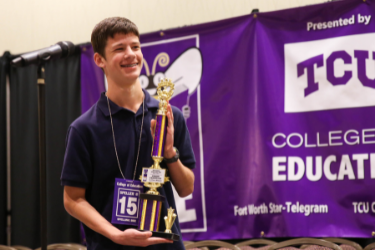 Our Program Cycle
The Scripps National Spelling Bee program begins each summer when organizations sign on to sponsor their community programs and follows the school year, from classroom and school spelling bees to regional spelling bees and the national finals.
PURPOSE AND PASSION

Each organization brings passion for community, education and literacy as a Scripps National Spelling Bee Regional Sponsor. We profiled three programs of varying sizes (Dallas, Cincinnati and Sacramento) to share stories of what being a Sponsor means to them.  
Interested in becoming a Regional Sponsor?
Fill out an interest form, and someone from the Bee will reach out to you.
"BEING A SPONSOR FOR THE BEE doesn't take that much time — it really doesn't — because the [Scripps] National Spelling Bee is so organized, and they equip you with all the RESOURCES YOU NEED to make it easy on you. They WALK IN PARTNERSHIP with you through the process." 
-Mona Morrow
WCPO 9 Regional Spelling Bee
Cincinnati, Ohio