Scripps National Spelling Bee
Preparing Students for Every Stage
Enroll today to receive everything you need for your school spelling bee.

Help your students begin their spelling bee journeys by enrolling your school in the Scripps National Spelling Bee program. For $165 per school, you will receive all the materials needed to conduct classroom and school spelling bees. Early fee available through October 15.
​
Teachers, when you enroll by September 30, you will receive an extra one-year subscription to Britannica Online for Kids, the premium online study resource by Encyclopædia Britannica.
How Does Your Student Compete?
Through Your Local Sponsor's Program
Organizations across the country sponsor local area spelling bee programs that feed into the national finals. When your school enrolls in our program, teachers receive information about the local program in your area.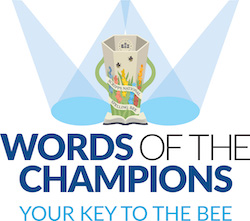 Have you heard the buzz? The Bee has developed a new 4,000-word study resource to help your student prepare for classroom to state spelling bees.
The official book club of the Bee has a new book selection for September! Subscribe for free to learn more about this month's book and receive special book-related resources, including spelling lists and themed bookmarks.
Give Students In Your Area The Opportunity To Shine.
Sponsoring a local spelling bee program is a great way to promote education and support teachers and students in your area. Local sponsors conduct regional spelling bee competitions and send their area champions to the national finals in National Harbor, Maryland.