It is Final Local Bee season across the country as spellers put their preparation to the test by competing against other school spelling bee winners. The Scripps National Spelling Bee estimates 11 million students participate in our program. They represent more than 25,000 enrolled schools in every state in the U.S., several U.S. territories and a number of other countries. Winners of these regional events will advance to compete in the Scripps National Spelling Bee this May 26-28 at the Gaylord National Resort and Convention Center in National Harbor, Maryland. 
Each week, we will recap some of the final local spelling bees. In this blog post, we're checking in on spelling bees in Illinois, California, Michigan and Indiana. 
In Illinois, spelling runs in the Trone family. Evan Trone, a seventh grader from Warren Community Unit School District in the northeast corner of the state, won the Carroll/JoDaviess/Stephenson Regional Office of Education regional spelling bee. His father, Abe Trone, won his final local spelling bee when he was in the sixth grade. 
Evan studied with his father to prepare for the competition, which featured 24 school champions. In the 11th round, Evan correctly spelled "elaborative" to earn a trip to the national finals. It was a proud moment for the family. "It makes me proud to win, and my dad and I really studied hard," Evan said. "I am excited to go to Washington, and I know I have to study harder to compete nationally, but I can do it."
In Visalia, California, Adeline Boling made quite the splash with her winning word — "kerplunk." It was a chance for the sponsoring newspaper, Visalia Times Delta, to teach its audiences about the literary device onomatopoeia, which is a word that phonetically mimics or resembles the sound of the thing it describes. It is also a wonderful spelling word. 
Winning the Tulare County Spelling Bee took great stamina considering it began with 223 participants. After just five rounds, only four spellers remained. The final two battled back and forth until Adeline's championship moment. The Conyer Elementary fifth grader said she was amazed she won. 
County Superintendent of Schools Tim Hire congratulated all the students and explained the competition is about so much more than spelling. "Even more importantly, this is an opportunity for kids to stand up in front of a crowd, think on their feet and demonstrate poise and composure," Hire said.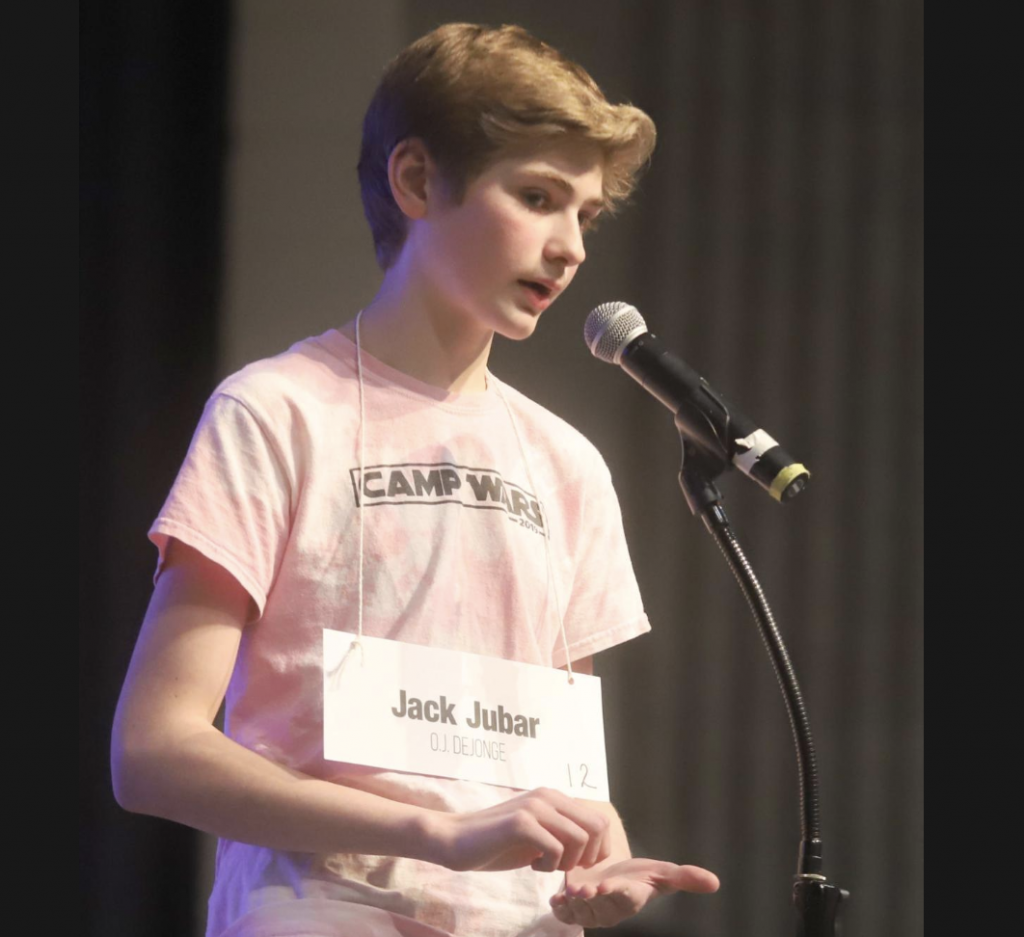 In Ludington, Michigan, the third time was the charm for Jack Jubar. The eighth grader from O. J. DeJonge School took his time and traced each letter in his hand as he correctly spelled each word, including his championship word, "secession." 
In his first regional competition two years ago, he placed third. Last year, he was runner-up. This year, he told the local newspaper sponsor, Ludington Daily News, that studying paid off. "I feel pretty happy because I put in a lot of effort studying," Jack said. This was the 23rd year for the regional competition located along Lake Michigan. 
In Sterling, Illinois, sixth grader Kathleen Keesey was among plenty of other experienced spellers vying for the top prize. The event began with 37 spellers (eight of them with previous regional experience) and after seven rounds, just two spellers remained.  The Reagan Middle School student took her time spelling "truculence" to become her school's first regional winner since 2005. 
Kathleen has the support of her family and her English teacher to help her prepare for the next step in her spelling journey. "You know how good you are, but you don't know how good everyone else is," Kathleen told event sponsor, Sauk Valley Media. "There were a lot of good contestants."
In addition to the trip to the national competition, Kathleen won a 2020 United States mint proof set, online subscriptions to Encyclopedia Britannica and the Merriam-Webster Unabridged dictionary, and a $100 Amazon gift card.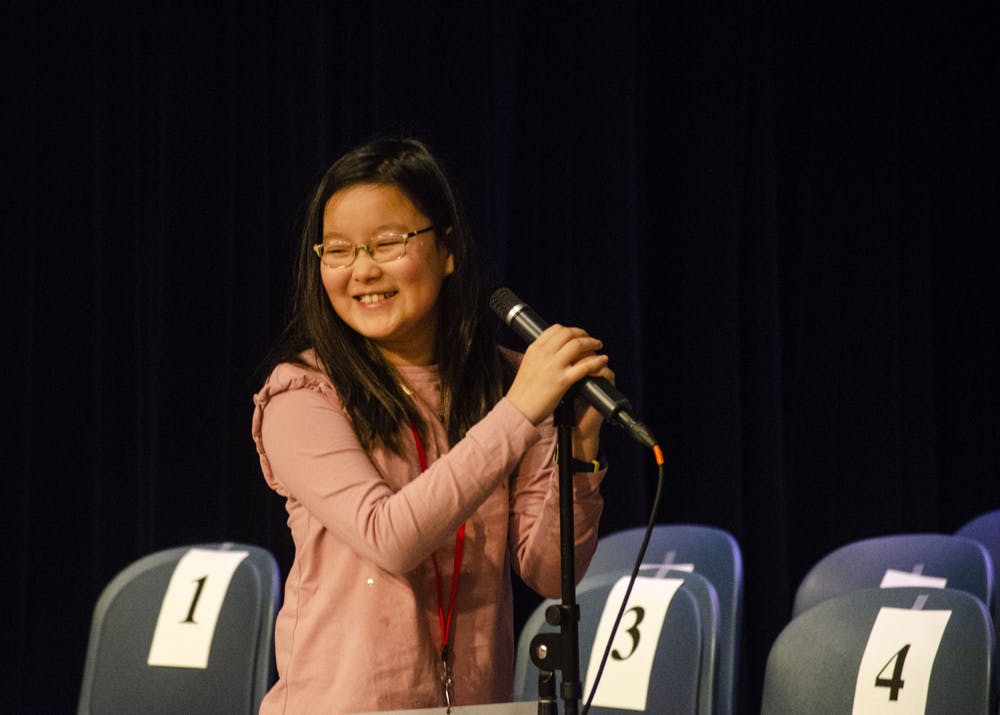 Yena Park might want to make 17 her favorite number. At the ninth annual Indiana University Regional Spelling Bee in Bloomington, Yena's speller number was 17, and she correctly spelled her championship word, "corollary" in the 17th round. 
Yena is a fifth grader at University Elementary School, and this will be her second trip in a row to compete in the national finals. A total of 24 school spelling bee champions from five counties competed. Before the oral spelling, all the students took a vocabulary test. It turns out Yena knows what the words mean in addition to how to spell them. She achieved the top score on the vocabulary test, getting 21 out of 25 correct.