It is Final Local Bee season across the country as spellers put their preparation to the test by competing against other school spelling bee winners. The Scripps National Spelling Bee estimates 11 million students participate in our program. They represent more than 25,000 enrolled schools in every state in the U.S., several U.S. territories and a number of other countries. Winners of these regional events will advance to compete in the Scripps National Spelling Bee this May 26-28 at the Gaylord National Resort and Convention Center in National Harbor, Maryland.
Each week, we will recap some of the final local spelling bees. In this first blog post, we're traveling to Pennsylvania, Tennessee, New York and Jamaica.
In Morton, Pennsylvania, outside of Philadelphia, one school district is dominating the local spelling bee scene. Garnet Valley School students took the top three spots in the Delaware County Spelling Bee held on Feb. 1. Aditya Parab, a sixth grader, earned a trip to the national finals by correctly spelling "laureate," which means the recipient of honor or recognition for achievement in an art or science.
A total of 59 spellers from 30 schools in the county battled for 12 rounds. Srilekha Mamidala, an eighth grader, came in second place, followed by Nicholas Burkat, a fourth grader. Read the full article in the Daily Times.
------------
Persistence and practice paid off for eighth-grader William Carter of Lausanne Collegiate School in Memphis, Tennessee. He's been competing in and winning his class spelling bees since he was in the first grade. This year, as a wise 13-year-old, studying and his competitive drive catapulted him to his win in the Shelby County Spelling Bee, sponsored by the University of Memphis. His winning word was "compendium," a noun meaning a brief summary of a larger work or of a field of knowledge.
William told the Daily Memphian that since this is his last year for eligibility, he put in the extra effort to improve on his early exit in last year's competition. "I wasn't ready. But I think I studied enough for it, and it was earned. It was by chance. But it also was by me working to do it." Read the complete article here.
------------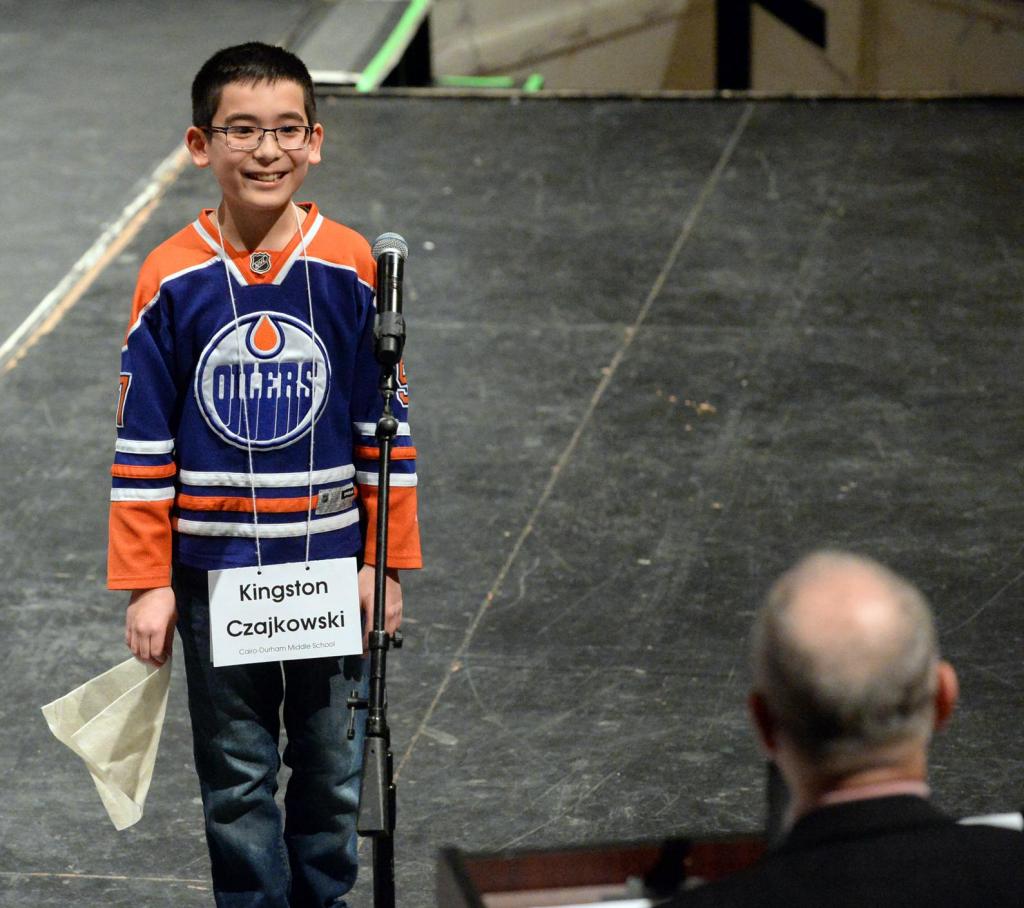 At the 38th annual Capital Region Spelling Bee in Albany, New York, spellers representing 103 area schools competed for the title and a trip to the national finals.
Kingston Czajkowski, a sixth grader at Cairo-Durham Middle School, was all smiles and gave an enthusiastic thumbs-up after correctly spelling "ankh." An ankh is an object or design resembling a cross but having a loop instead of the top arm, used in ancient Egypt as a symbol of life. In addition to spelling, Kingston is clearly a fan of hockey and the Edmonton Oilers. The Times Union newspaper is the main coordinating sponsor of the program. Click here for the complete photo album from The Daily Gazette.
------------
In Jamaica, one of six other countries participating in the Bee, a confident 9-year-old outlasted her competition to win The Gleaner's Children's Own Spelling Bee. Toriann Beckford, a student at McAuley's Primary School in St. Catherine, showed great potential when she was just 4 years old. Since then, she has worked diligently to achieve her goal of being Jamaica's champion. Her winning word was "uvarovite," which is defined as a chromium-bearing garnet group species. She told the Gleaner reporter, "It wasn't hard." She will represent her country when she competes in the Scripps National Spelling Bee in May. Read more about Toriann in this Gleaner article.